Animal Success Stories
Do you have a "Happy Tails" story you would like to share?
Click a letter to find an animal or
view all
.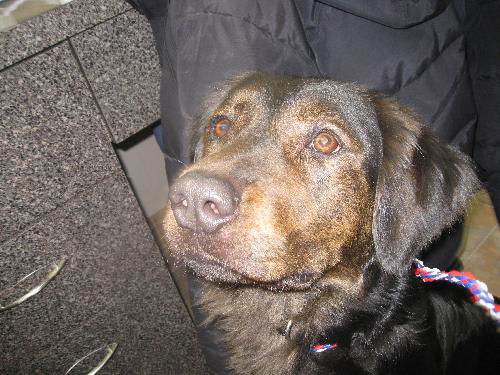 Prince Charming - ADOPTED 02.25.10
Prince Charming was found tied to a telephone pole in front of someone's yard in northern MI in January 2010. The homeowner took Prince Charming in, but could not keep him and LDDR was contacted to help. This beautiful boy is a handsome flat coat/ golden mix who has a personality to match. It wasn't long before his story of abandonment became a Happy Tails for him and LDDR. We recently received this update from his adoptive family: "Last year I adopted a dog you called "prince charming" I call him H! H and I are doing amazing! He is the best thing that has ever happened to me! I couldn't imagine my life without him. We moved back to Buffalo NY and have been here since August. We go on hikes as often as we can, and he loves to go visit my mom in VA. I want to thank you so much! Again thank you so much!!!"
Sandee - ADOPTED 11.14.10
Sweet Sandee came into care with LDDR in September 2010 all the way from Holland….Holland, MI that is. A young dog, Sandee had many losses in her short life. Her original owner was completing military training and a tour of duty in Iraq so left Sandee with a relative until he returned. Unfortunately, his wife, needing treatment for cancer, required a sterile environment so he could not take Sandee back. Then, the family caring for Sandee encountered financial problems and could no longer afford to keep her. The shelter where Sandee was surrendered was overcrowded and Sandee was in danger of being euthanized. Luckily, LDDR was notified and brought Sandee into care. Sandee's adorable face and sweet personality was irresistible to everyone who met her. She freely gave 'kisses' to anyone and loved having her belly rubbed. Parting with Sandee was difficult for the foster mom, but she knew if she didn't let Sandee go she couldn't foster another dog in need. Many wonderful families applied for Sandee making that decision even much harder. One family in particular fell in love with Sandee over the internet and came all the way from Connecticut to meet her. It was love at first sight all over again. So thrilled was the family when they learned they were chosen to adopt Sandee, they drove back again from Connecticut in snowy weather, an 11-hour drive, just to pick her up. After returning to Connecticut, they quickly informed the foster mom that Sandee did just fine on the journey home and is enjoying playtime with her new canine brother and feline friends.
Tilly - ADOPTED 08.01.10
Little Tilly was found in the middle of a busy road in Oakland County on a stormy night in May 2010. She was wearing a red harness and having a very bad hair day. Her coat was wet and matted, and her nails badly overgrown. A search for Tilly's family was unsuccesful so LDDR brought her into foster care. Tilly received a much needed grooming and health check, and it wasn't long before adoption applications started coming in for her. Unfortunately, one thing after another happened with the applicants and it seemed that poor Tilly would never have a family. Finally, a family looking for a canine companion for their male mini schnauzer applied to adopt Tilly and the rest is history. Tilly, who also goes by the name Matilda, is said to be a sweet dog that enjoys hanging out at home with family and going to doggie daycare a couple times a week with her canine housemate.
Gavri - ADOPTED 03.01.11
Gavri was rescued from a house full of abused, neglected, and starving dogs. Of all my fosters thus far Gavri was by far in the worst shape of any when we first picked him up. Barely even able to walk, he was so thin and malnourished you could practically see right thru his rib cage. He had such a look of desperation in his eyes, was extremely filthy, and his tail, which was practically an untreated open wound, literally looked like it had been severed in half that day. The mere thought of how something like this would be allowed to happen to such a sweet dog brought about tears from at least one volunteer. Luckily we were able to get him into midnight surgery that evening, during which we'd learned that his tail was so infected they didn't even think he would make it. The next morning however, we were glad to hear they successfully amputated the infected parts of his tail and that he was in recovery. The next couple weeks, despite being in one of those silly plastic cones, Gavri was able to get a lot of rest, gain about 10 pounds, and started enjoying play time with his new friends. To see Gavri today you'd never guess what he'd been thru as he's such a beautiful, fun & well behaved boy. His loyalty and desire to be with people are both astonishing and even off the leash he comes to you almost immediately after hearing his name called. The only real evidence of his abuse left is his short little nub of a tail, which is almost constantly wagging. He's recently been placed in his forever home, where he's now enjoying 1.5 acres of land which backs up to a small creek where he'll surely enjoy running around after the squirrels and ducks. Definitely one of those dogs I'll miss a lot, but I'm so happy to have just been a part of his rescue and recovery.
Brutus-ADOPTED
Brutus came to LDDR as a dog on his last chance. Even after saving him in the nick of time from being put down, Brutus still had to overcome scarcopic mange, was missing most of his hair, had a major flea infestation, and was struggling to overcome a lifetime of horrible neglect along with mental and physical abuse. You could see in his soulful eyes that he was just a very sad dog resulting in such a difficult puppy-hood. Going to a really awesome foster home, where Brutus was said to have been the sweetest and most well behaved dog ever taken in, at times bringing his new foster mom to tears, he began to receive the kindness, love and care that he'd never known. Though he was not ready for adoption at first as there was much to overcome, it was said that somebody would eventually receive one of the best dogs ever to come through last day. Today Brutus resides with his new forever family, where his new mom describes him as the light of her life, and thanks LDDR for bringing this joy into the whole family. He now has more love than he can handle. Within his new family Brutus has made friends with an autistic 6 year old who'd previously been terrified of dogs, but has since become accustomed to giving doggy hugs and kisses. Brutus and he had apparently bonded in about a half hour and have since become best friends. Thank you so much to Wendy for doing such an amazing job fostering Brutus while nursing him back to health, and for Jeanie & family for taking Brutus into their home forever where we know he is living out a wonderfully happy tail :)
Click a letter to find an animal or
view all
.