Stewart - Rf Litter's Web Page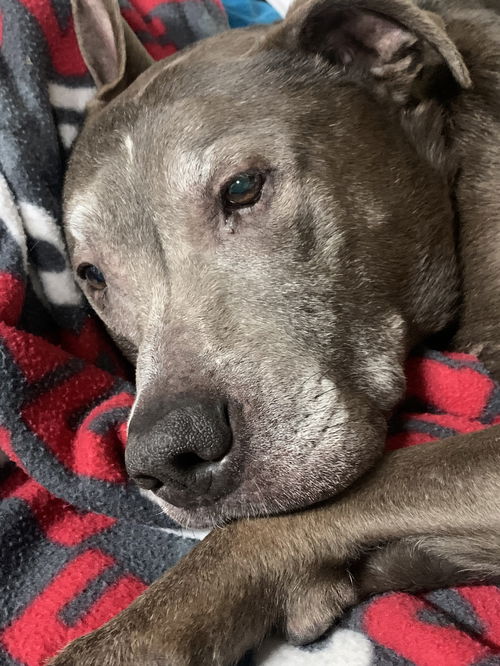 I would love you more than you can imagine.
Please adopt me!
Stewart - Rf Litter needs a caretaker or foster!
Won't you consider helping him get a new start?
If interested in any of our animals for adoption, or to foster an animal, please fill out the respective application here to get the process started. Visit our FAQ webpage for commonly asked questions about our adoption/foster process.
Name:
Stewart - Rf Litter
Breed:
Labrador Retriever / Great Dane / Mixed (short coat)
Learn more about the Labrador Retriever.
Learn more about the Great Dane.
General Potential Size:
Large
Current Age:
9 Years 11 Months (best estimate)
Activity Level:
Moderately Active
Description:
*** Because Stewart is a senior, he qualifies for many programs available to our adopters. He qualifies for adoption, foster, foster to adopt, senior for senior program, and has a discounted adoption fee. Stewart also comes with a free training package and a medical sponsorship to cover vetting and medications in the future.
Stewart aka Stewie has been in his foster home for 10 months now and his foster family is no longer able to care for him. He is now considered urgent and must be moved.
Stewie was brought into our rescue as a pup and was adopted at 10 weeks old. At 9 years old he was returned to the rescue because his owners bought a vacation property, and he was not adjusting well. He is a super sweet and lazy guy that loves to be around his people. He is happiest just chilling with you. He likes to roll around on his back, put his head in your lap and get some snuggles. This senior boy is on a thyroid medication, joint supplements, and pain medication for his legs so, his new family would need to be able to administer meds 2-3 times a day. A home where he does not have a lot of stairs to climb often would be best. He needs a home with no cats or dogs. He is frightened by young children so young visitors are ok if he is gated off in his own space but living with children full time will be too much for him. He would love a quiet, chill place to finish off his golden years. He is fixed, up to date on all his shots with a clean bill of health and is ready for adoption. Stewart rides very well in the car but I don't think he is super fond of it.
If you would like to meet, foster, or adopt Stewart please fill out an online adoption or foster application. Questions to cbrookszy@yahoo.com
Last Day Dog Rescue now microchips all animals before adoption. Microchips are implanted between the animals shoulder blades and are a permanent form of identification. The microchips are registered to Last Day Dog Rescue with the adopter's info added once adopted. If the animal is ever lost and slips his/her collar/tags the microchip allows the finder to know who to contact if scanned for a microchip. Animals MUST still have a collar with tags on at all times. Per our contract, we take all our animals back if for any reason you can't keep your adopted animal.
Please understand the statements about this animal are based upon the foster home's evaluation of the animal. The animal might behave differently (negatively or positively) in your home. While the animal might be good with the current foster's dogs, cats, children, etc., it may not be with your animal(s) or children. The animal may be housebroken or litter trained in the home of the foster but may relapse in your home. The animal is represented to the public as it performs in the foster home and any statements made regarding the animal are conditional to that foster home setting. Please understand that statements made regarding this animal are simply overviews and are not guaranteed.
The Petfinder.com system requires that we choose a predominant breed or breed mix for our animals. Visual breed identification in animals is unreliable so for most of the animals we are only guessing at predominant breed or breed mix. We get to know each animal as an individual and will do our best to describe each of our animals based on personality, not by breed label.
Thank you for looking through our list of animals needing forever homes and choosing rescue first. We appreciate you stopping by.
Videos of Stewart - Rf Litter:


Other Pictures of Stewart - Rf Litter (click to see larger version):

847.8k

1819.6k

2159.2k

1496.7k

3564.3k

2740.9k

2399.6k

2931.8k

1653.5k

2258k

2438.7k

3244.4k

2557.5k

3227.2k

6152.1k

2599.9k

2229.8k

30.7k

39.4k

46.8k

39.1k

65.4k

37k

74.9k

65.3k

1943.4k

892.1k

2285.7k

3232.3k

2860.4k

981.2k

3361.3k

1819.4k

2774k

4792k

1732.6k

1851.5k

2430.3k

1135.1k

2530.4k
Currently we do not know if Stewart - Rf Litter will be able to attend the event,
Premier Pet Supply Adoption Event
on Sunday, May 22nd, 2022.
Currently we do not know if Stewart - Rf Litter will be able to attend the event,
Shop & Adopt Vendor & Craft Show
on Saturday, May 28th, 2022.
Currently we do not know if Stewart - Rf Litter will be able to attend the event,
PetSmart Adoption Event - Troy
on Saturday, May 28th, 2022.
Currently we do not know if Stewart - Rf Litter will be able to attend the event,
PetSmart Adoption Event - Troy
on Saturday, June 25th, 2022.
See Stewart - Rf Litter's attendance information for future events.
See a list of all events.