Merlyn's Web Page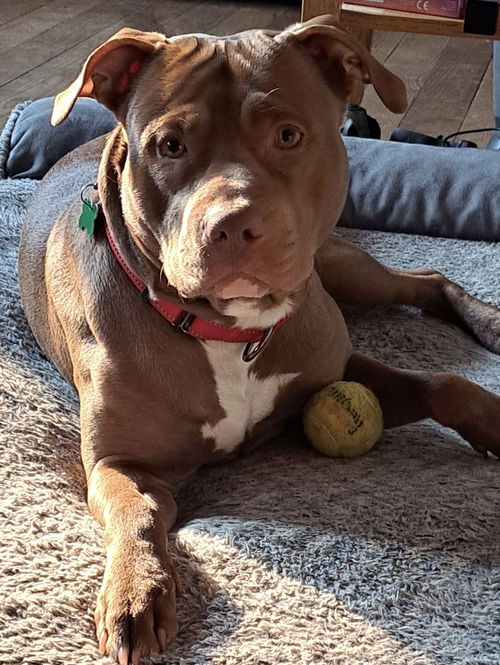 Interested in adopting?
If interested in any of our animals for adoption, or to foster an animal, please fill out the respective application here to get the process started. Visit our FAQ webpage for commonly asked questions about our adoption/foster process.
Breed:
American Pit Bull Terrier
Learn more about the American Pit Bull Terrier.
Current Age:
1 Year 10 Months (best estimate)
Description:
Merlyn is a silly, but well behaved, loving boy. He is approximately 19 months and about 60 lbs. He will greet you in the morning by showing you his favorite toy of the day. He loves to be with his people. Snuggling with you on the couch is one of his favorite things. Although he has plenty of energy, he does settle down well and is happy to just be with you wherever you are.
He is wonderful in the car and is happy to just sleep and cuddle with someone until you arrive at your destination. He is potty trained, knows some commands (such as sit and shake) and is ever so gentle when taking treats. He does tend to want to chase our barn cats, chickens and the rabbits in the yard.
Merlyn would do best in a home with older children as he does not understand how strong he is. He just gets so excited to meet new people and to greet you when you come in! This can be worked on, of course, as he is young, very smart and eager to please. He is crate trained and very obedient about getting in when we leave the house. He has adapted well to his foster home and would love to find his forever home.
Last Day Dog Rescue now microchips all animals before adoption. Microchips are implanted between the animals shoulder blades and are a permanent form of identification. The microchips are registered to Last Day Dog Rescue with the adopter's info added once adopted. If the animal is ever lost and slips his/her collar/tags the microchip allows the finder to know who to contact if scanned for a microchip. Animals MUST still have a collar with tags on at all times. Per our contract, we take all our animals back if for any reason you can't keep your adopted animal.
Please understand the statements about this animal are based upon the foster home's evaluation of the animal. The animal might behave differently (negatively or positively) in your home. While the animal might be good with the current foster's dogs, cats, children, etc., it may not be with your animal(s) or children. The animal may be housebroken or litter trained in the home of the foster but may relapse in your home. The animal is represented to the public as it performs in the foster home and any statements made regarding the animal are conditional to that foster home setting. Please understand that statements made regarding this animal are simply overviews and are not guaranteed.
The Petfinder.com system requires that we choose a predominant breed or breed mix for our animals. Visual breed identification in animals is unreliable so for most of the animals we are only guessing at predominant breed or breed mix. We get to know each animal as an individual and will do our best to describe each of our animals based on personality, not by breed label.
Thank you for looking through our list of animals needing forever homes and choosing rescue first. We appreciate you stopping by.
Other Pictures of Merlyn (click to see larger version):

1320.5k

1138.7k

2309.6k

266.1k

1332k

405.2k

182.9k
Currently we do not know if Merlyn will be able to attend the event,
Tractor Supply Co Meet & Greet Event
on Sunday, October 15th, 2023.
Currently we do not know if Merlyn will be able to attend the event,
Premier Pet Supply Meet & Greet
on Sunday, October 22nd, 2023.
Currently we do not know if Merlyn will be able to attend the event,
Troy PetSmart Meet & Greet
on Saturday, October 28th, 2023.
Currently we do not know if Merlyn will be able to attend the event,
Tractor Supply Co Meet & Greet Event
on Sunday, November 19th, 2023.
See Merlyn's attendance information for future events.
See a list of all events.