Bunny's Web Page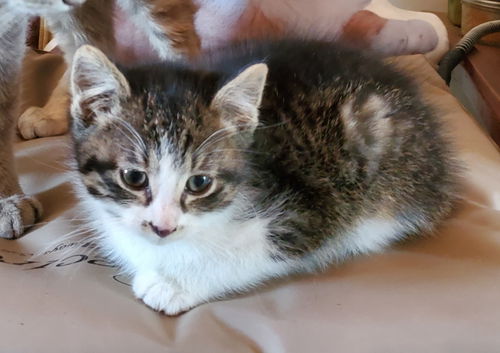 Interested in adopting?
If interested in any of our animals for adoption, or to foster an animal, please fill out the respective application here to get the process started. Visit our FAQ webpage for commonly asked questions about our adoption/foster process.
Breed:
Domestic Medium Hair / Tabby / Mixed
Current Age:
2 Months 16 Days (best estimate)
Description:
Bunny is a male tabby cat who is now about 2 months old and now ready for his forever home. He, like most kittens, loves to play. His favorite toy is the flirt pole. And he loves chasing his friend Bugz around the house. Kittens do better with a buddy and preference will be given to applicants who already have an animal in the home, or are willing to adopt two kittens together.
Bunny is up to date on vaccines, but please note he will need two more booster shots over the next couple months. Also, it is mandatory adopters have their kitten spayed or neutered. This helps assure there will be no future litters of kittens. Vets recommend it be done as early as 3 months of age.
Please fill out an application. Foster dad will reach out to offer meet & greets shortly after. Thanks for taking a look at Bunny.
Last Day Dog Rescue now microchips all animals before adoption. Microchips are implanted between the animals shoulder blades and are a permanent form of identification. The microchips are registered to Last Day Dog Rescue with the adopter's info added once adopted. If the animal is ever lost and slips his/her collar/tags the microchip allows the finder to know who to contact if scanned for a microchip. Animals MUST still have a collar with tags on at all times. Per our contract, we take all our animals back if for any reason you can't keep your adopted animal.
Please understand the statements about this animal are based upon the foster home's evaluation of the animal. The animal might behave differently (negatively or positively) in your home. While the animal might be good with the current foster's dogs, cats, children, etc., it may not be with your animal(s) or children. The animal may be housebroken or litter trained in the home of the foster but may relapse in your home. The animal is represented to the public as it performs in the foster home and any statements made regarding the animal are conditional to that foster home setting. Please understand that statements made regarding this animal are simply overviews and are not guaranteed.
The Petfinder.com system requires that we choose a predominant breed or breed mix for our animals. Visual breed identification in animals is unreliable so for most of the animals we are only guessing at predominant breed or breed mix. We get to know each animal as an individual and will do our best to describe each of our animals based on personality, not by breed label.
Thank you for looking through our list of animals needing forever homes and choosing rescue first. We appreciate you stopping by.
Other Pictures of Bunny (click to see larger version):
Currently we do not know if Bunny will be able to attend the event,
Bark on Biddle
on Friday, June 2nd, 2023.
Currently we do not know if Bunny will be able to attend the event,
Bark on Biddle
on Saturday, June 3rd, 2023.
Currently we do not know if Bunny will be able to attend the event,
Bark on Biddle
on Sunday, June 4th, 2023.
Currently we do not know if Bunny will be able to attend the event,
Troy PetSmart Meet & Greet
on Saturday, June 24th, 2023.
See Bunny's attendance information for future events.
See a list of all events.