Memo ♥'s Web Page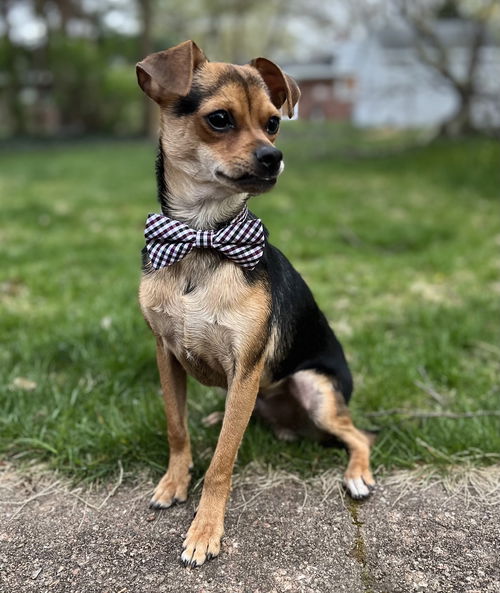 Won't you think about adopting me?
If interested in any of our animals for adoption, or to foster an animal, please fill out the respective application here to get the process started. Visit our FAQ webpage for commonly asked questions about our adoption/foster process.
Learn more about the Chihuahua.
Current Age:
1 Year 8 Months (best estimate)
Activity Level:
Moderately Active
Description:
Hi everyone! My name is Memo (pronounced Mee-Moe). I was found wandering the cold streets of Detroit and I really hope to find a nice comfortable home soon! I was really scared at first, but after a couple of days in my foster home, I was able to open up and start enjoying life.
I have long legs, so I am really good at running. I love walks and exploring in the yard. I need slow introductions to other dogs and may be picky. I have ignored cats that I've met at adoption events but may like to chase.
I am very sweet and affectionate, and I like to give kisses.
I am vaccinated and neutered. I do have an issue with my eyes that will likely be lifelong. My eyes don't make tears so I will likely require eye drops lifelong, and several times a day. If you are interested in adopting me, please fill out an application.
Last Day Dog Rescue now microchips all animals before adoption. Microchips are implanted between the animals shoulder blades and are a permanent form of identification. The microchips are registered to Last Day Dog Rescue with the adopter's info added once adopted. If the animal is ever lost and slips his/her collar/tags the microchip allows the finder to know who to contact if scanned for a microchip. Animals MUST still have a collar with tags on at all times. Per our contract, we take all our animals back if for any reason you can't keep your adopted animal.
Please understand the statements about this animal are based upon the foster home's evaluation of the animal. The animal might behave differently (negatively or positively) in your home. While the animal might be good with the current foster's dogs, cats, children, etc., it may not be with your animal(s) or children. The animal may be housebroken or litter trained in the home of the foster but may relapse in your home. The animal is represented to the public as it performs in the foster home and any statements made regarding the animal are conditional to that foster home setting. Please understand that statements made regarding this animal are simply overviews and are not guaranteed.
The Petfinder.com system requires that we choose a predominant breed or breed mix for our animals. Visual breed identification in animals is unreliable so for most of the animals we are only guessing at predominant breed or breed mix. We get to know each animal as an individual and will do our best to describe each of our animals based on personality, not by breed label.
Thank you for looking through our list of animals needing forever homes and choosing rescue first. We appreciate you stopping by.
Other Pictures of Memo ♥ (click to see larger version):

1135.6k

2594.2k

872.3k

835.2k

717.8k

2055k
Currently we do not know if Memo ♥ will be able to attend the event,
Novi Pet Expo
on Friday, December 8th, 2023.
Currently we do not know if Memo ♥ will be able to attend the event,
Novi Pet Expo
on Saturday, December 9th, 2023.
Currently we do not know if Memo ♥ will be able to attend the event,
Novi Pet Expo
on Sunday, December 10th, 2023.
Currently we do not know if Memo ♥ will be able to attend the event,
Tractor Supply Co Meet & Greet Event
on Sunday, December 17th, 2023.
See Memo ♥'s attendance information for future events.
See a list of all events.