Angela's Web Page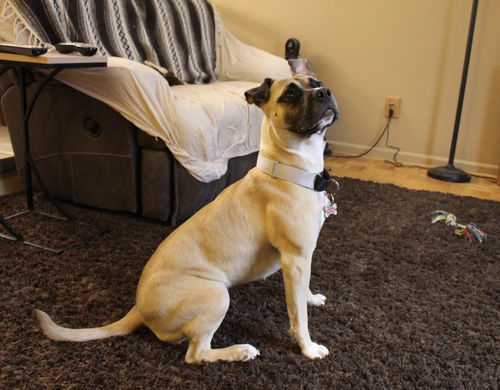 Won't you think about adopting me?
If interested in any of our animals for adoption, or to foster an animal, please fill out the respective application here to get the process started. Visit our FAQ webpage for commonly asked questions about our adoption/foster process.
Breed:
Terrier / Boxer / Mixed
Learn more about the Boxer.
Current Age:
1 Year 2 Months (best estimate)
Description:
Are you looking for an energetic young dog who loves giving kisses and chasing balls? I'm your girl!
My background is a bit of a mystery as I was found in the backyard of the people who surrendered me to Last Day Dog Rescue. I spent about 2 weeks with them and their two dogs. I loved the frequent visits by their seven grandkids of all ages. They named me Angel because I was such a good girl.
I am now with my foster folks at LDDR and am settling in nicely. The veterinarian says she thinks I am part boxer, shephard, bull terrier, and perhaps a little mastiff.....so basically a lovable mutt. My age is also a mystery but between one and two years old would be a good guess. I am probably as heavy as I am going to get (unless I get to have lots of the snacks I love) and would be considered a medium size dog. I never have had an accident in the house but I don't let my needs known, so my people let me out whenever I approach the back door. I sleep all night long with only an occasional snore. I am a little afraid of new people and it takes about one or two minutes of them being patient with me to feel comfortable around them. Once I know they are nice, I give them lots of kisses too. I am learning how to walk nicely on a leash. I never react or bark at the neighborhood dogs who bark at me. I am a brave girl when my fosters leave me alone. I never chew on anything that isn't mine and I don't behave badly when they are gone. But what a celebration when they return! I am so happy that my wagging tail looks like it could get me airborned!
I am fully vaccinated and spayed. While at a recent dog event, I enjoyed meeting the other dogs up for adoption and gave lots of kisses to people who came to meet me.
Hopefully my fosters can find me a fantastic home so I can give all this love and energy to people who will love me forever."
Last Day Dog Rescue now microchips all animals before adoption. Microchips are implanted between the animals shoulder blades and are a permanent form of identification. The microchips are registered to Last Day Dog Rescue with the adopter's info added once adopted. If the animal is ever lost and slips his/her collar/tags the microchip allows the finder to know who to contact if scanned for a microchip. Animals MUST still have a collar with tags on at all times. Per our contract, we take all our animals back if for any reason you can't keep your adopted animal.
Please understand the statements about this animal are based upon the foster home's evaluation of the animal. The animal might behave differently (negatively or positively) in your home. While the animal might be good with the current foster's dogs, cats, children, etc., it may not be with your animal(s) or children. The animal may be housebroken or litter trained in the home of the foster but may relapse in your home. The animal is represented to the public as it performs in the foster home and any statements made regarding the animal are conditional to that foster home setting. Please understand that statements made regarding this animal are simply overviews and are not guaranteed.
The Petfinder.com system requires that we choose a predominant breed or breed mix for our animals. Visual breed identification in animals is unreliable so for most of the animals we are only guessing at predominant breed or breed mix. We get to know each animal as an individual and will do our best to describe each of our animals based on personality, not by breed label.
Thank you for looking through our list of animals needing forever homes and choosing rescue first. We appreciate you stopping by.
Video of Angela:

Other Pictures of Angela (click to see larger version):

2550.8k

3259.1k

2872k

3079.1k

2959.7k

2075k

2653.9k

1988.3k
Currently we do not know if Angela will be able to attend the event,
Bark on Biddle
on Friday, June 2nd, 2023.
Currently we do not know if Angela will be able to attend the event,
Bark on Biddle
on Saturday, June 3rd, 2023.
Currently we do not know if Angela will be able to attend the event,
Bark on Biddle
on Sunday, June 4th, 2023.
Currently we do not know if Angela will be able to attend the event,
Troy PetSmart Meet & Greet
on Saturday, June 24th, 2023.
See Angela's attendance information for future events.
See a list of all events.